ISO14001 Authenticated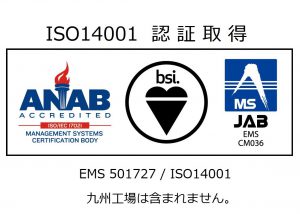 The ATOM Group recognizes that preserving the global environment and preventing pollution through the Group's business activities is an important management issue, so it hereby formulates this Environmental Policy in order to achieve harmony between its business activities and the global environment.The following Basic Policy sets environmental objectives and targets upon recognition of the environmental impact of our business activities and reviews them as required.
In addition, all workers will actively work on environmental issues and make continuous improvements.
1.In our business activities, we will tackle the following items in order to prevent pollution and reduce our impact on the environment.
(1)Promote measures to combat global warming by reducing energy consumption
(2)Promote recycling and reducing waste generation through creative measures to achieve effective resource utilization
(3)Active participation in global environmental preservation activities
2.We will abide by legal regulations related to environmental preservation as well as other requirements to which our company has agreed.
3.We will raise awareness of environmental preservation among all of our employees and strive to disseminate knowledge, implement, and maintain our environmental management system so that they understand our Environmental Policy. We will also disclose our Environmental Policy if requested to do so by an external party.
Contact
Please get in touch if you have any questions about our products or any other inquiries.